The Sake Industry and Sake Brewery Crisis
The Sake Industry and Sake Brewery Crisis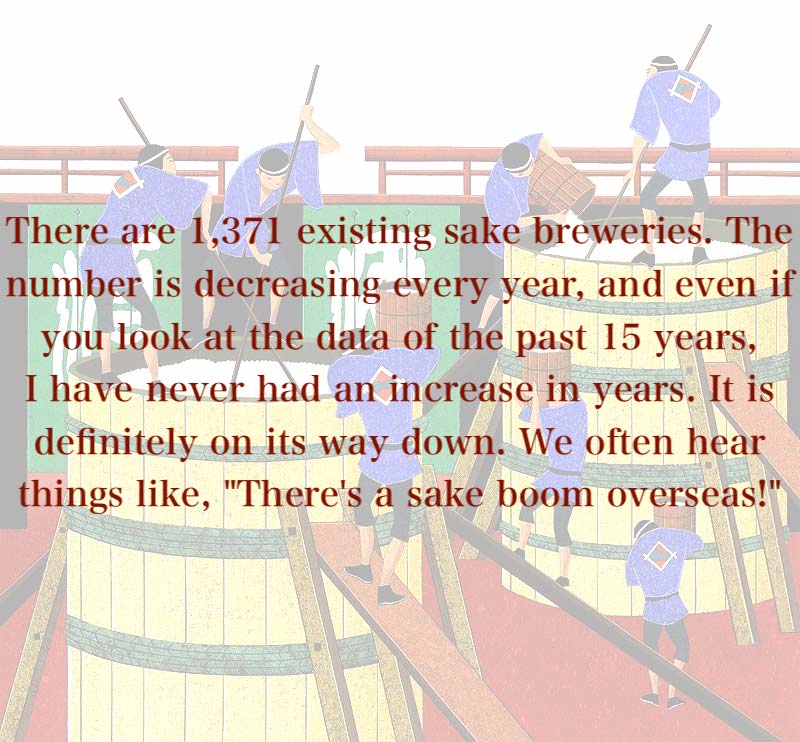 There are 1,371 existing sake breweries. The number is decreasing every year, and even if you look at the data of the past 15 years,
I have never had an increase in years. It is definitely on its way down. We often hear things like, "There's a sake boom overseas!"
In 1988, there were about 2,000 sake breweries. In other words, 700 warehouses have disappeared in the last 30 years. In 15 years from 1973, 1,000 breweries closed, and 700 in 30 years. It is said that about 1,700 sake breweries have disappeared in the last 45 years.
startling reality. Nearly 40 breweries go out of business every year. 7,000 sake breweries after the war
Now over 1,000. No matter how much sake is being reconsidered overseas, this decline is a problem.
Businesses related to sake, especially sake breweries, are facing serious problems. One of the representative cultures of Japan
Sake is now known as "SAKE" even overseas. A sake brewery that has disappeared with the times may have had a ridiculously good sake. If this pace does not stop, the number of sake breweries will fall below 1,000 in a few years.
It is difficult to increase the number of sake breweries from now on due to issues such as brewing licenses, but if the appeal of sake can be successfully conveyed to more generations and countries, it will surely be possible to stop this trend.
My dream is to work at a sake brewery! I want to become a brewer and make delicious sake! How many young people are there like that? Naturally, the decrease in the number of breweries may also be a sign of the times.
However, there are still many small-scale sake breweries in Japan that seriously produce delicious sake. The sake industry still has plenty of potential.
I would like to request that this post be delivered to as many sake lovers as possible around the world. Please "save" this post. No need to read it again later. Having your post saved increases the chances that it will reach you.
As a result, as many people as possible, the current crisis of the sake industry and
I want people to know that sake is one of the Japanese cultures that the world can be proud of.
And I would be happy if it was an opportunity for people to become interested in Japanese sake.
---