What kind of sake brand is 彗 Cher?
Sake like a comet? Approaching the charm of the super-individual sake "Char"
Do you know a sake brand called "Char"? It is a brand that appeared like a comet at the end of 2017 and became a hot topic.
Innovative label design and discerning taste that are not bound by the conventional concept of sake. This sake is a must-try for a new era.
This time, We would like to introduce such a Char.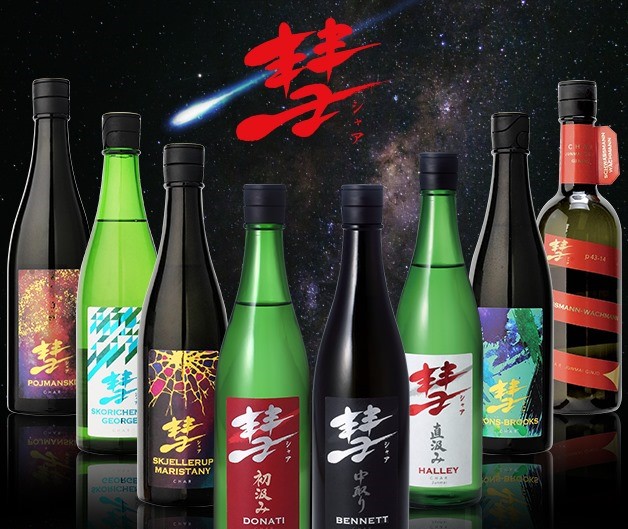 Contents
What is a "Char"?
What is "Endo Sake Brewery"?
"Char" series
What is a "Char"?
As the name suggests, "Char" is a "sake brand that appears like a comet." On September 11, 2017, three brands were released at the same time.
"Char" quickly became a hot topic due to its unique name and design. Naturally, the contents are also particular, aiming for a flavor not found in existing sake.
They created "Endo Sake Brewery," which has won the Monde Selection Gold Award for 12 consecutive years. The "Char" produced by the young Toji "Shin Takano" from the same collection has also been steadily receiving awards and is becoming a representative brand in both name and reality.
What is "Endo Sake Brewery"?
Founded in 1864 (the first year of the Genji era). "Endo Sake Brewery" has a brewery in Suzaka City, Nagano Prefecture. In this nature-rich Suzaka area of ​​Shinshu, "Endo Sake Brewery" has been brewing sake for over 150 years.
Representative brands are "Mountain stream", "Morning squeeze", and "Domuroku". Although it is not a large brewery, it is a sake brewery that produces creative original products such as "Char", including representative brands.
The sake produced by "Endo Sake Brewery" has won numerous awards, not only for locals but also for professionals. It has been highly praised both in Japan and overseas, including receiving the Monde Selection Gold Award for the 12th consecutive year.
"Char" series
彗 -Char- BENNETT Nakatori Junmai Daiginjo
"Nakatori" is a gem that collects the most well-balanced parts of sake. In addition, Junmai Daiginjo Sake "彗-Char-BENNETT Nakatori Junmai Daiginjo" can be said to be at the level of the competition.
It features a gorgeous and fruity aroma that is typical of Daiginjo, and a refreshing and transparent taste. The delicate flavor without any unpleasant taste becomes more fragrant when placed in a wine glass, and you can enjoy it comfortably.
彗 -Char- DONATI First Pump Junmai Ginjo
Junmai Ginjo Sake, which won the "Wine Glass Delicious Japanese Sake Award 2018 Highest Gold Award", started squeezing sake and bottled the "Arabashiri" part. "Arabashiri", which is the pre-stage of "Midori", is characterized by its freshness and strong flavor.
The gorgeous and fruity aroma is unique to Ginjo Sake. The sweetness and sourness spread in a well-balanced manner, and the taste that disappears sharply is recommended as a sake during meals.
彗-Char-HALLEY Directly pumped pure rice
Out of the three brands, the one that you can get at the most affordable price is "彗-Char-HALLEY Directly Pumped Junmai". It is a pure rice sake that is directly squeezed.
The aroma of rice, which is typical of sake, and the moderate acidity that spreads in the umami create an elegant flavor. The pleasant finish is also an attractive look.
---