What kind of sake brand is 七田 Shichida?
Approaching the charm of the men's sake "Shichida" brewed in the famous water of Gion River, the village of fireflies
Sake and water are an important relationship that cannot be cut. It is said that 70% of sake is made of water.
Therefore, the effect of water quality on sake is very large. Saga's "Shichida" introduced this time is a sake brewed from the underground water of the Gion River, which is famous for fireflies.
We would like to explain the charm of sake made in a river that is so beautiful that fireflies come out.
Contents
About "Shichida"
About Tenzan Sake Brewery
About "Shichida"
Brand outside the prefecture of famous sake "Tenzan" that Ryoma Sakamoto also drank
Shichida is a sake that originated in Saga Prefecture, and is a brand that was created to be sold "outside the prefecture" among Tenzan sake breweries. Although it is very popular, it is a limited sake with a low production volume.
In fact, it is said that Ryoma Sakamoto liked to drink Tenzan! If there is a brand for the outside of the prefecture, the taste is endorsed!
Shichida is a man's sake (dry sake) with a strong taste, and it is a perfect sake for eating while that you won't tired of drinking. Especially, it goes well with meat dishes.
About 天山酒造 Tenzan Sake Brewery
Tenzan Sake Brewery was founded in 1861 (the first year of Bunkyu) on the banks of the Gion River in Saga Prefecture.
It is said that the sake brewing business started in 1875 (Meiji 8), 14 years after its founding. It seems that he started the brewing business with the flow of buying a liquor store that will be closed nearby.
Kuramoto's commitment Part 1 "Sake rice"
At Tenzan Sake Brewery, they mainly use sake rice from Saga prefecture.
There are many variations of rice suitable for sake brewing in Saga Prefecture, such as "Saikai No. 134", "Saga no Hana", and "Yamada Nishiki".
It seems that Mr. Goto started cultivating "Yamada Nishiki" around 1998 to brew delicious sake, and continues his research until now.
After pursuing the quality of sake, it is inevitable that the brewing process will be reviewed and finally the raw material "rice" will be reached.
In 2005, he launched the "Tenzn Sake Rice Cultivation Study Group" and is aiming to improve it every day by holding study groups and inspections to find out how to cultivate "Yamada Nishiki" better.
Kuramoto's commitment # 2 "Prepared water"
The water of the Gion River, which is used as the water for preparation, is so famous that it is designated as one of the "100 Selected 100 Exquisite Waters in Japan". It is said to be the birthplace of Genji fireflies and is known as one of the most famous firefly spots in Japan.
Underground water obtained from the clear stream of Tenzan is very suitable for sake brewing because it has no iron and is rich in minerals.
In water that contains a lot of minerals such as calcium and magnesium, microorganisms use the minerals as food and active ingredient, so fermentation becomes active.
The water of the Gion River, which has these characteristics, creates a man's sake with a strong taste.
人 Jin (People)米 Mai(Rice)酒 Shu (Sake) Project
At Tenzan Sake Brewery, the "People, Rice, Sake (Jin mai shu) Project" is being held so that the general public can experience sake brewing.
They would like many people to experience the excitement of manufacturing by cooperating with sake rice producers, brewers, and people involved in distribution until the creation of Nanada.they want you to understand the safety of sake through manufacturing.
This project was created based on such a philosophy.
You can experience the field of rice planting, harvesting, brewing, bottling and labeling of sake rice, and you can make your own sake by following the process from a handful of seedlings to getting a drop of sake.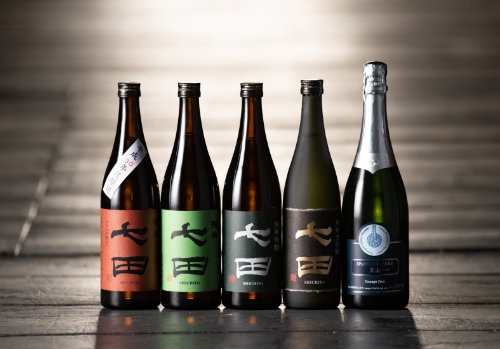 ---