What kind of sake brand is ソガ・ペール・エ・フィス Sogga père et fils?
What is the "phantom sake" "Sogga père et fils" produced by the winery?
"Sogga père et fils" is "sake" produced by Obuse Winery. Many people would have thought, "Sake at a winery !?"
In fact, Sogga père et fils is a rare brand that is produced in very small quantities after winemaking is finished. Due to its very low production volume, it is also called "phantom sake" among sake fans.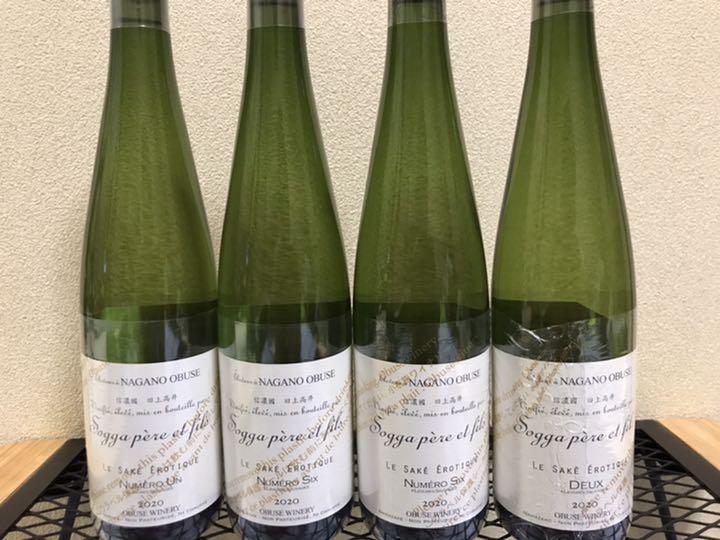 Contents
What is "Obuse Winery"?
What is "Sogga père et fils"?
What is "Obuse Winery"?
Brew wine using your five senses
Obuse Winery is a small warehouse located in Obuse Town, Kamitakai District, Nagano Prefecture.
Mr. Akihiko Soga, the 4th generation of Obuse Winery, brews Soga Pale Effis. (That's why it's "Soga")
Mr. Soga is a person who is evaluated as "a passionate person who makes wine using all five senses" because of his commitment to wine making.
After graduating from the Graduate School of Wine Research, he studied grape cultivation and brewing in Niigata. Furthermore, it is brewed by Mr. Soga, who has practiced more seriously in France.
Four years after returning to Japan, his wine was in the limelight after winning a gold medal at a domestic wine competition.
What is "Sogga père et fils"?
About Sogga père et fils
As mentioned above, Obuse Winery mainly manufactures wine, and About Sogga père et fils is manufactured within the range of hobby production.
However, the manufacturing method and raw materials are carefully selected. All sake is manufactured only with pure rice, honjo, and ginjo.
Also, it seems that only "Nagano Miyama Nishiki", which is suitable for sake brewing is used. I am surprised that Miyama Nishiki is also cultivated in-house!
Isn't it beyond the scope of my hobbies? You can see that sake is also made with a lot of heat.
Sake born from the challenge of Obuse Winery
About Sogga père et fils seems to be a challenge for Obuse Winery.
In winter, the grapes, which are indispensable for brewing wine, need to be pruned to cut and shape the trees.
During the off-season of winemaking this winter, he seems to be making a very small number of high-quality sake for the purpose of improving his skills and exploring his own identity.
Sake and wine. Did the quest for new ideas and techniques lead to the illusion of sake as the same brewed sake?
Sogga père et fils Yeast
I heard that the taste of sake is rice and water, but it's not the only one. "Yeast" is an important factor that determines the taste.
The yeast used in sake should be changed depending on what kind of taste balance you want. Obuse Winery brews sake using all yeasts 1 to 9 except yeast 8.
From "Un" which means 1 to "neuf" which is 9, the product name is expressed in French and corresponds to the number of yeast used for fermentation. (By the way, yeasts No. 1 to No. 5 are not currently used.)
The reason why it's known to be a phantom sake
As mentioned above, Sogga père et fils Yeast is a sake that is brewed only for a limited time, so the amount of brewing is very small. As for the amount of brewing, 40 stones! When converted to liters, it seems that it makes a considerable amount of about 7000 L, but in the world of sake it is recognized as a very small amount.
Also, since Sogga père et fils Yeast keeps experimenting with new manufacturing methods for research every year, it may be one of the attractions that "I will not meet the same sake next year".
---