What kind of sake brand is Gokyo?五橋
Sake full of local love brewed with rice, water and people from Yamaguchi! Approaching the charm of "Gokyo"
Now, this time, We would like to introduce sake that is full of local love, using completely locally produced ingredients.
Its name is "Gokyo". It is one of the local sakes that Yamaguchi is proud of. Specially selected soft water preparation and contract-grown rice use, etc.
The carefully crafted Gokyo is so talented that it has been adopted as sake for the press of the Toyako Summit!
What kind of liquor is "Gokyo"?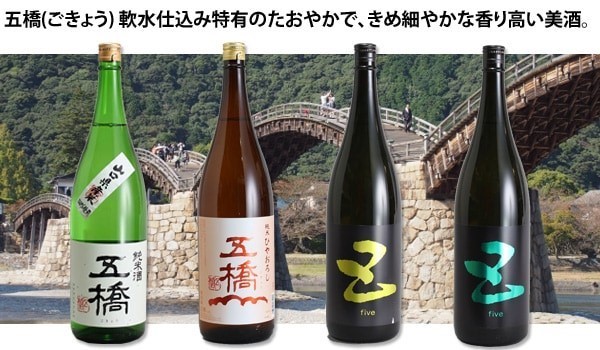 Contents
What is "Gokyo"?
What is "Sakai Sake Brewery"?
What is "Gokyo"?
"Gokyo" is Yamaguchi's famous sake that has been finished with soft water since the days when hard water was the mainstream, and you can feel the commitment of the brewery.
It is a brand that you want to drink by paying attention to water, which is an important element of sake, because it is characterized by the delicacy, lightness, and high aroma peculiar to soft water.
The origin of the name is "Kintai Bridge," which is one of the three famous bridges in Japan and is a five-storied warp bridge. The brand, which is named after a local famous place, is made using local rice and water, and is finished as a sake that you can feel the goodness of Yamaguchi.
It is good to enjoy "Gokyo" as it is, but it is recommended to taste it as sake during meals. In particular, ayu (sweetfish) swims in the Nishiki River where Kintaikyo Bridge is located, so if you take a sip while thinking of the scenery full of taste with ayu (sweetfish) dishes, you will be able to enjoy "Gokyo" even more deliciously.
What is "Sakai Sake Brewery"?
"Sakai Sake Brewery" is a long-established store located in Iwakuni City, Yamaguchi Prefecture, founded in 1871. It is a brewery known not only to Yamaguchi Prefecture but also to sake fans all over the country.
Commitment to sake brewing
Sakai Sake Brewery is blessed with underground soft water from Nishiki River. Since the time when soft water was considered difficult for sake brewing, they have been particular about using underground soft water from Nishiki River.
At the 1947 National New Sake Appraisal, where hard water-prepared sake was the mainstream, the aforementioned "Gokyo" shined first, and the names "Gokyo" and "Sakai Sake Brewery" quickly roared all over the country. That's right.
The brewery manufactures "Gokyo", a nationwide sake, but at the same time, they are particular about being a local sake maker in Yamaguchi, and cherish local rice, water, and people.
In 1996, they started contract cultivation of sake rice in cooperation with "Tratan Village" near Iwakuni. There is no lack of attitude, such as setting up a private rice mill in the same area. Currently, "Yamada Nishiki" cultivated in Tratan Village and "Saito no Shizuku" and "Isehikari", which are Yamaguchi Prefecture's original sake rice, are also used.
Sake brewing using the latest technology
What supports the sake brewing of the same brewery is the fusion of historical brewing technology and the latest brewing technology using computers and mechanical equipment. Equipped with equipment that can control the temperature perfectly from manufacturing to storage. Since temperature control affects the quality of sake, it is said that it is carried out under a thorough control system.
The brewery's stance, which continues to evolve with the times, is steadily evolving step by step with the spirit of the old and new, creating the local sake of the mountainous country that is proud of throughout the country.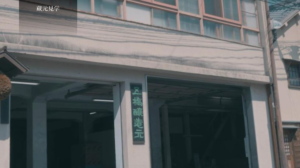 Brand: gokyo
BrandItems: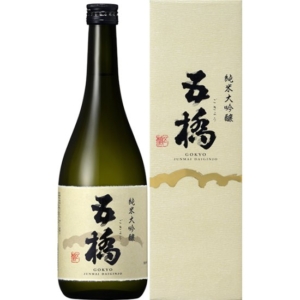 ---