What kind of drink sake brand is Kagetora ?
Popular sake that makes a name for itself all over the world! Introducing the charm of Niigata's famous sake "Koshino Kagetora"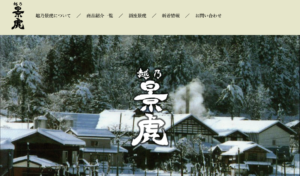 This time, we would like to introduce "Koshino Kagetora", a famous sake that has a large presence in Niigata, a famous sake producing area!
contents
What is "Koshino Kagetora"?
What is "Morohashi Sake Brewery"?
Product Introduction
What is "Koshino Kagetora"?
Kagetora Koshino is a famous sake that represents Niigata. Its popularity is not limited to the prefecture, but is widespread throughout the country.
In Niigata sake, which has a strong impression of light and dry, the product is finished in such an exquisite balance that it is both light and delicious, and that it is dry but does not feel spicy.

Its taste has a charm that makes you want to keep drinking. This sake is perfect when you want to take a little time and enjoy an evening drink.

There are series such as "Meishui brewing" and "Sakeza Kagetora", which is a limited distribution product, among Koshino Kagetora, and even if it is called Koshino Kagetora, each has different charms.

If you have a chance, please try and compare the Koshino Kagetora series. I'm sure you will be addicted to the appeal of this product!

What is "Morohashi Sake Brewery"?
Founded in 1847 (4th year of Koka). Morohashi Sake Brewery boasts a history of more than 170 years in Nagaoka City, Niigata Prefecture. Nagaoka City is the former Tochio City, and the Tochio area is blessed with historical assets.

The Tochio area is the place where the Sengoku warlord "Kenshin Uesugi", who you all know, spent his youth, and at that time he was calling himself "Kagetora Nagao".

As many of you may have noticed, the origin of the name Koshino Kagetora comes from the history and connection of this area.

The historic land of Nagaoka, which is located almost in the center of Niigata, is blessed with abundant nature, but is surrounded by mountains on all sides, making it one of the most heavy snowfall areas in Niigata.

This harsh and rich nature nurtures delicious sake and is loved not only in the prefecture but all over Japan.
The water used is the spring water from Todo no Mori, which was selected as one of the 100 Selected Waters in Japan, and the water that sleeps in the wells of the warehouse. All of them are soft water, and they are the secret of the refined taste of sake made by the same brewery, which is dry but does not make it feel spicy.

Morohashi Sake Brewery has been close to people along with history and nature for a long time. The strong brewers who support the brewery continue to produce famous sake.
Product introduction
Daiginjo Treasured Shizuku Sake
A long-term aged sake from Tobintori Daiginjo, which is made by storing and aging Daiginjo brewed with Yamada Nishiki, a rice suitable for sake brewing, in a Tobin (18 liters) in a refrigerator for at least 3 years.
Famous water source
A traditional Daiginjo that was made in every warehouse in Niigata.
Niigata style ginjo brewing made from Takamine Nishiki rice has been revived.
Junmai Daiginjo
Junmai Daiginjo, which is made by highly polishing Yamada Nishiki and managed by long-term low-temperature mash by the skill of the brewer. The refined taste and gentle ginjo aroma are exquisite.
Daiginjo

Daiginjo is made from Yamada Nishiki and has a gorgeous aroma and deep taste.

Famous water preparation Daiginjo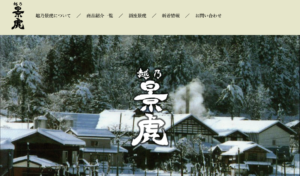 Brand: kagetora-sake
BrandItems: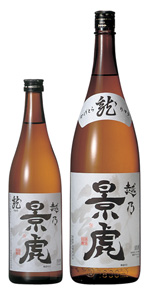 ---