What kind of sake brand is Jouzenmizunogotoshi?上善如水
Isn't this sake anymore? Drink the sake Jouzen Mizunogotoshi Sparkling which is too easy to drink!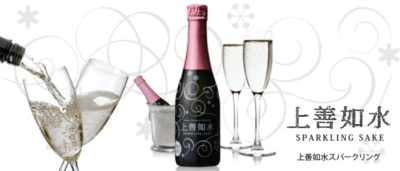 Have you ever drank sparkling sake?
Thinking there are many people who have been counted as one of the factors driving the popularity of sake these days and have become one of the triggers to start drinking sake.
Today, we would like to introduce Shirataki Sake Brewery's Jouzen Mizunogotoshi Sparkling, which is one of the easiest sparkling sakes to drink!
Contents
What kind of sake is Jouzen Mizunogotoshi Sparkling?
What kind of sake is Jouzen Mizunogotoshi Sparkling?
Touji !? (laughed) strong alcohol taste that can't be caught in sake!
Jouzen Mizunogotoshi Sparkling" is a good form of the image of sake that we usually envision, such as Shirataki Sake Brewery's Touji smiling "It's not sake anymore" and the brewery surprised that "there is no image of sake". It is finished in a completely new taste that will betray you with.
Can be used at any time!
"Jouzen Mizunogotoshi Sparkling" is also recommended for apéritif, which protects the mucous membrane of the stomach, or when you want to relax a little after work. The gentle carbonation and sweetness of the rice are perfect for any situation!
Easy to match with everyday meals
Champagne and sparkling wine are familiar when it comes to firing sake, but "Jouzen Mizunogotoshi Sparkling" is a sparkling sake that is easy to match with everyday dishes because of the natural sweetness of rice, modest acidity and astringency, and gentle carbonation. !!
I actually drank it!
So let's start with the introduction and drink immediately!
The upper part wrapped in a pink film, white curves and ice flowers are drawn here and there, and at first glance it is incredibly fashionable as a bottle of sake.
If you peel off the thinly protruding film behind the front as shown in the photo counterclockwise, the pink film covering the top will come off. When peeling off the film, a screw cap is attached. So you don't have to worry about it suddenly spurting out when you open it. Let's pour it!
When poured into a glass, the sweet scent rises modestly. The color is exactly the same as white wine, and if it is on the table, it looks just like white wine even if it is mistaken for white wine.
The fine bubbles stimulate the mouth with bubble wrap, and while the gentle sweetness of rice is brought to the fore, it is refreshing and easy to drink. It is unavoidable to think "Is it really sake?" Because it is so easy to drink.
You can enjoy it with a solid fruity aroma, so I'm worried that many people mistakenly drink it as sparkling wine (laughs).
Syuwa Syuwa pops and enriches the dining table
A refreshing and dry sparkling sake.
The soft sweetness and exhilaration that you feel the moment you put it in your mouth.
You can enjoy it before or after a meal.
How was Jouzen Mizunogotoshi Sparkling"?
Renewing the image of everyone's sake.
This new sparkling sake with a unique taste, attracts not only those who like sake, but also those who want to drink sake from now on, please pick it up at least once. This is sake.
杜氏 Touji = Chief brewer at a sake brewery
Brand: jouzen-mizunogotoshi
BrandItems:
---